About the book
In 1999 the original version of 'Chelmsford at War' which was produced by Ian Henry Publications was an immediate success.
Now, seven years of new research has led to this considerably expanded updated version of 'Chelmsford at War,' an impressive book containing over half a million words across 348 pages.
Containing hundreds of photographs, maps,illustrations and eyewitness accounts, 'Chelmsford at War' provides a detailed and informative view into Essex's county town and surrounding its district during the Second World War.
Presented in a newspaper-like format, with a comprehensive 6,000 entry index, the book gives easy access to multiple aspects of this fascinating period of Chelmsford's history.
Extract from Author's Preface
Welcome to the 2020 edition of 'Chelmsford at War', a study of the county town of Essex and its surrounding district during the Second World War.
This edition is considerably expanded from the original (1999) version of the book, following further research over the intervening period.
As with the 1999 version I have produced this edition in the format of a newspaper, with 'stories' arranged in chronological order, covering preparations for the war, the war years and some postwar events, together with a very comprehensive index to aid the reader.
The book may appear to be a collection of carefully arranged extracts from wartime newspapers. However, newspapers of that period avoided the inclusion of any information of potential value to the enemy, so they tend to be scant in details of the bombing and aircraft incidents necessary for this book.
Instead the 'stories' were written from a variety of original sources and converted to their newspaper format - the intention being to allow the reader to both dip in and out of matters of interest to them and/or read the book conventionally from start to finish.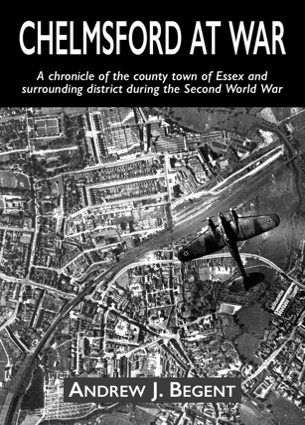 The image to the right shows an example page illustrating the 'newspaper style' format of the book.